1. Crazy Disco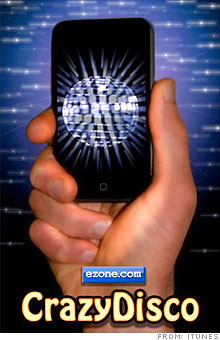 Price: $.99
Developer: Ezone
What it does: Revitalize the dullest of office parties with this rotating, sparkling disco ball, advertised by Ezone as a "great conversation starter." But there's more than one way to get down: developer Aaron Berk sells a rival app called "Disco Ball."
By Mina Kimes, reporter
2. iBeer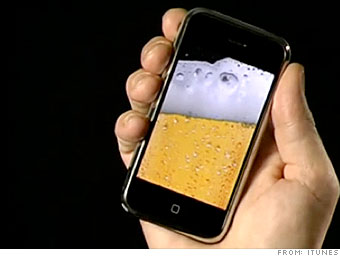 Price: $2.99
Developer: Hottrix
What it does: This clever app serves up a never-ending brew - tilting the phone causes beer to drain out, and shaking it creates foam. Sober iPhone users can purchase iMilk or iWater instead.
3. iLightr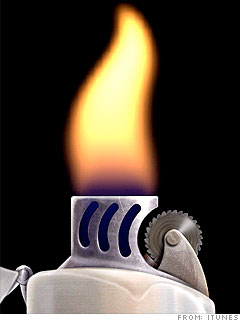 Price: $0.99
Developer: Ubermind
What it does: The Seattle based developer boasted that it had created "the most realistic virtual lighter experience available for any mobile device." You can brag about your phone while waving it over your head at a Journey concert.
4.
Kazoo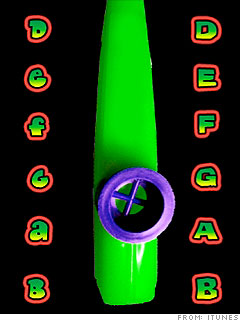 Price: Free
Developer: Chudigi Software
What it does:
A shiny green kazoo can play the scale in all of its shrill, buzzing glory. Think of this app as human repellent.
5.Koi Pond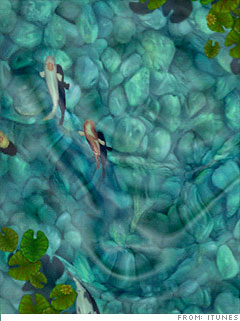 Price: $0.99
Developer: The Blimp Pilots
What it does:
Users find Zen by filling their screens with peaceful, customized koi ponds. More disruptive types can drag their fingers around to produce ripples and freak out the fish.
6. MixMeister Scratch
MixMeister Scratch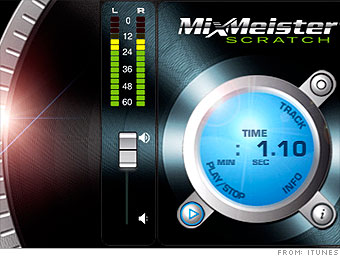 Price: Free
Developer: MixMeister
What it does: Amateur deejays can use their fingers to scratch beats over any song available. The sound effects range from "hip hop beats" to "the atomic bomb."
7.

More Cowbell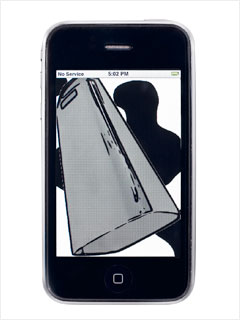 Price: Free
Developer: Maverick Software
What it does: Show everyone you're a "Saturday Night Live" fan by making your phone ring like a cowbell. Actor Christopher Walken immortalized the sound when he played an overzealous music producer who kept requesting more of it.
8. Rimshot
Rimshot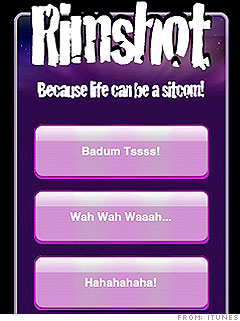 Price: $0.99
Developer: Sprikit
What it does: Download this app to play a "badum" or "tssss" sound effect the next time you hear a bad joke. But know that using cell phone software to mock someone else's wit could backfire.
9.

Sim Stapler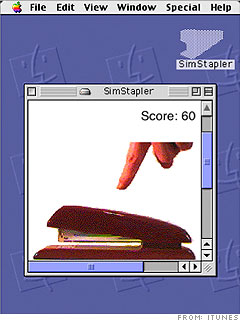 Price: Free
Developer: Freeverse, Inc.
What it does: For those who love the metallic clang of a stapler (or would like to envision themselves stapling a coworker's fingers), there's Sim Stapler. You can get it for free, but you'll never recover the time you'll waste on clicking on a fake stapler.
Wooo Button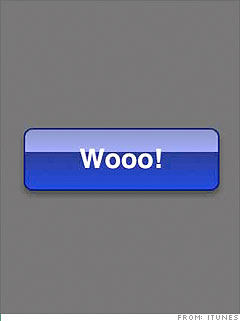 Price: Free
Developer: Aaron Berk
What it does: For the many situations in which a man shouting "Woo!" is appropriate, there's this free app. Forty thousand people downloaded it in the first three days after it appeared.